SOCIAL SERVICES IS COLLECTING SCHOOL SUPPLIES
PLEASE BRING ANY DONATIONS TO:
PNCSA
 2 DOWN STREET
OR
DHS
9 SARAH SPRING DRIVE
INDIAN ISLAND, ME 04468
PENS             NOTEBOOKS           RULERS 
       SCISSORS                 GLUE STICKS                    PENCILS    
   ERASERS      FOLDERS     BACKPACKS                  CALCULATORS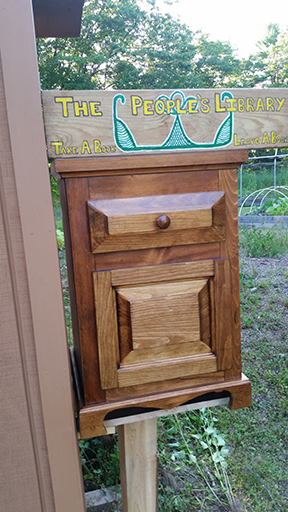 I wanted to bring this wonderful community project and new resource to everyone's attention! The People's Library is in place at The People's Garden.  Our tiny library encourages the community to "Take a book ~Leave a book". There is no membership required nor pesky late fees—you actually don't ever need to return the book if you love it! There is also a little drawer if you would like to leave seeds to share with others. Please see the attached photos.
This project has been a year in the making with 9 donors, Dawn Adams Neptune designed & crafted our beautiful library, and my wife, Lizbeth Lopez assembled & installed it. We are excited to invite you to stop by, there are nice benches at the garden so you can read among the tomatoes and zucchini if you'd likeJ We are in need of children's books if you have some that you could contribute.
Alivia Moore
Tribal Family Advocate & Prevention Coordinator
Noli-Pəmαwəsolətipəna