Congratulations to the 2020 Moose Hunt Lottery Winners!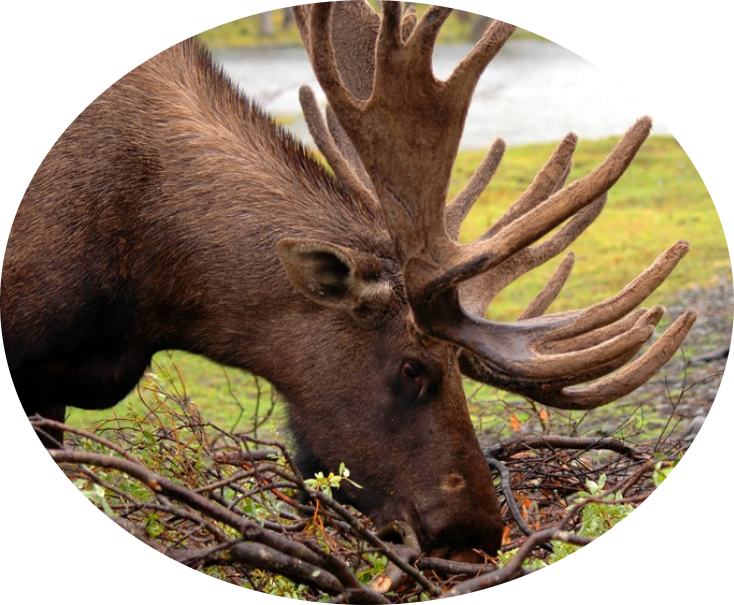 Dustin Parent
Kevin Hopkins
William A. Gray
Allen Moore
Nicholas Dorion
(click on section titles in brown to expand or contract them)
---
---
5 general season moose permits are available for 2020 and will be auctioned to the highest bidders
Your bid amount is for the moose permit only and includes the following:
5 consecutive day hunt
Guide expenses are

separate

cost
State hunting licenses are not required on Penobscot Nation land
Deadline to bid: June 5, 2020, 4pm
Drawing: Bids will be opened by June 10, 2020.
Successful bidders will be contacted by certified mail.

Penobscot Indian Nation is the ideal location for a guided moose hunt in Maine
Penobscot Nation land encompasses over 130,000 acres of pristine and majestic Maine wilderness which are divided into 8 separate territories, and the Tribe has exclusive jurisdiction over the harvesting of wildlife within the boundaries of the trust lands. Click here for a map of Penobscot Nation lands.
Penobscot Indian Nations offers the peak time and opportunity to hunt for the best moose Maine has to offer
General season opens during the peak rut: September 21st - 25th, 2020 or September 28th - October 2nd, 2020.
Penobscot Indian Nation Moose Stats
1000+ pound moose are regularly harvested on Penobscot Indian Nation land including state record holders. Below is a list of a few moose stats gathered by our big game biologist over the past few years.
Antler Spreads: 50+ spreads recorded every season
Average Age of Harvested Moose: 3.5 years
Herd size: 30,000 animals statewide
Tribal success ratios: 97% overall
State success ratios: 79% antlerless, 89% antler

Click here to download a pdf copy of the 2020 Bid Application (122 KB)
---
Click here to see the hunting photo gallery.
---
Only licensed Penobscot Indian Guides may serve as guides on Penobscot Nation land. Penobscot Indian Guides are skilled in traditional calling as our ancestors have done for thousands of years. In addition, our guides have hunted moose on these very lands their entire lives and have demonstrated to the tribe their unparalleled abilities to succeed. State record moose with 50-60" spreads and weighing over 1,000 pounds have been harvested on our land by Penobscot tribal members.
Registered PIN Guides Department of Natural Resources Contacts
Allan Huston
Phone: 941-773-5465
Email: This email address is being protected from spambots. You need JavaScript enabled to view it.

Chris "Charlie" Francis John Banks, Director
Phone: 207-951-7917 Phone: 207-817-7330
Email: This email address is being protected from spambots. You need JavaScript enabled to view it. Email: This email address is being protected from spambots. You need JavaScript enabled to view it.
(View Testimonials)
Erik Sappier
Phone: 603-860-8804
Email: PThis email address is being protected from spambots. You need JavaScript enabled to view it.
Gavin Sappier
Phone: 603-860-8804
Email: This email address is being protected from spambots. You need JavaScript enabled to view it.
Jo Dana
Phone: 207-949-5379
Email: This email address is being protected from spambots. You need JavaScript enabled to view it.
John Neptune
Phone: 207-659-3490
Email: This email address is being protected from spambots. You need JavaScript enabled to view it.
Martin Secord
Phone: 207-899-5770
Email: This email address is being protected from spambots. You need JavaScript enabled to view it.
(View Testimonials)
Ron Bear
Phone: 207-991-2764
Email: This email address is being protected from spambots. You need JavaScript enabled to view it.
(View Testimonials)
Scott Phillips
Phone: 207-827-2277
Email: This email address is being protected from spambots. You need JavaScript enabled to view it.
(View Testimonials)
Tannar Francis
Phone: 207-852-2543
Email: This email address is being protected from spambots. You need JavaScript enabled to view it.
Wane Loring
Phone: 207-949-2398
Email: This email address is being protected from spambots. You need JavaScript enabled to view it.
---
Click here to download a pdf copy of the 2020 Bid Application (122 KB)