Brownfields Program
Brownfields Tribal Response Program
The Penobscot Indian Nation Tribal Response Program (TRP) began in 2011 as an environmental program under Department of Natural Resource on Indian Island. Every year the Brownfields Program applies for a Cercla(128a) grant through the U.S. Environmental Protection Program Agency. The Brownfields program also collaborates with other agencies and funding resources.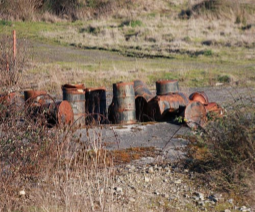 What is a Brownfields Site?
A property whose full use is hindered by fears of environmental contamination/Liability / Funding to cover remediation costs
"Real Property, the expansion, redevelopment, or reuse of which may be complicated by the presence or potential presence of a hazardous substance, pollutant, or contaminant." EPA (Real or perceived contamination)
The Purpose of this Program:
Reduces exposure of Harmful Substances to Human Health and the Environment
Enhances the Quality of Life by decreasing blight and providing a safer environment
Provides a means to enhance Economic Development
Provides Funding to Investigate cleanup sites
Protects and Enhances the Environment for Future Generations
Brownfields Sites Can Potentially Include the Following:
Abandoned warehouses
Abandoned industrial buildings
Old buildings/factories/gas stations
Landfills
Open/illegal dumping (particularly involving hazardous wastes like gas, oil, pesticides, paints, etc).
Methamphetamine labs: Materials found at these sites are extremely hazardous; don't investigate yourself. If you suspect a meth lab in operation or discover a location you suspect might be a former meth lab, call the police immediately. https://www.justice.gov/archive/ndic/pubs7/7341/7341p.pdf
Not a Brownfields Site:
A site the owner is liable for and that is being used as an open dump
A site where a removal action by another organization or agency has or is occurring
Please contact us if you want to know more or if you believe you have come across a Brownfields site.  We are here to help!
This email address is being protected from spambots. You need JavaScript enabled to view it.