Spring Bear Hunt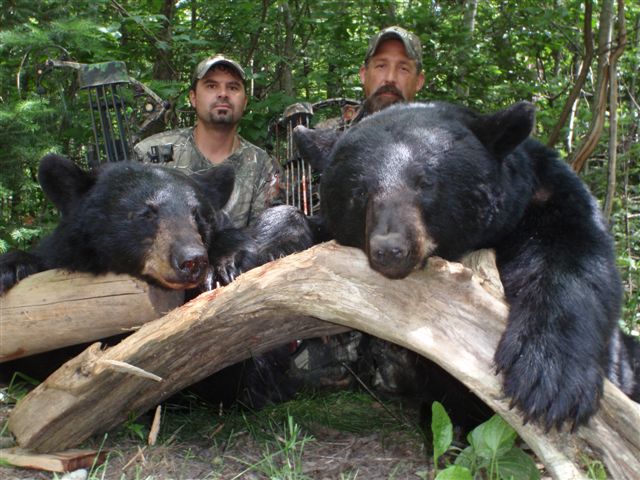 The Penobscot Nation is one of only 2 tribes that offer spring bear hunting over bait in the entire Northeast. The hunting season lasts for 8 weeks and hunting opportunites are available in every trust land territory. Large bears are routinely harvested (see our photo gallery!) Permit numbers are conservatively managed by the tribe, which results in a high quality hunt that cannot be matched elsewhere in the U.S.
Permits cost $500 each (guide fees are a separate cost) and are purchased through a Registered Penobscot Guide. A list of guides can be found below. One person is allowed to purchase multiple permits. Please review the laws pertaining to the spring bear hunt in the Chapter VII Fish and Game Regulations prior to arriving for the hunt.
2022 Hunting Season: May 2nd to June 25th .
Registered PIN Guides Department of Natural Resources Contacts
Erik Sappier
Phone: 603-860-8804
Email: This email address is being protected from spambots. You need JavaScript enabled to view it.
Gavin Sappier John Banks, Director
Phone: 603-860-8804 Phone: 207-817-7330
Email: This email address is being protected from spambots. You need JavaScript enabled to view it. Email: This email address is being protected from spambots. You need JavaScript enabled to view it.
Jo Dana
Phone: 207-949-5379
Email: This email address is being protected from spambots. You need JavaScript enabled to view it.
John Neptune
Phone: 207-659-3490
Email: This email address is being protected from spambots. You need JavaScript enabled to view it.
Ron Bear
Phone: 207-991-2764
Email: This email address is being protected from spambots. You need JavaScript enabled to view it.
Tannar Francis
(207) 852-2543
This email address is being protected from spambots. You need JavaScript enabled to view it.