What We Do
(click on section titles in brown to expand or contract them)
---
---
Just like the river, our monitoring activities change with the season.  Every spring brings about the rebirth of field and laboratory sampling and analyses.  Our permanent staff are getting ready for monitoring the rivers, tributaries and lakes in the Penobscot River Watershed and other Trust lands.  They have to order supplies, get meters calibrated and certified, review and revise data sheets, do any necessary work on equipment and MUCH more.
With ice-out comes the official arrival of sampling season.  Between May and October we make regular visits to:
90 sites on the mainstem and East and West Branches of the Penobscot River, tributaries such as the Mattawamkeag, Passadumkeag and Piscataquis Rivers (as well as similar tributaries).
17 sites on East Branch Lake, Big & Little Mattamiscontis Lakes, Matagamon Lake, Mountain Catcher Pond, Snow Mountain Pond, Round Mountain Pond and Blanchard Pond.
Sampled every week for
Sampled when necessary for -
To know whether fish, wildlife and plants are safe to eat, we sometimes sample for these toxic contaminants -
dioxin
PCBs
mercury and other heavy metals

---
The water laboratory at the Department of Natural Resources (DNR) processes hundreds of water samples each year for the monitoring of Tribal water resources.  Tribal water resources include the main stem of the Penobscot River and its tributaries, the East and West Branches of the Penobscot River and several lakes on trust land.  The Piscataquis and Mattawamkeag Rivers are major tributary sources that are included in the Program's water sampling.  The Water Resources Program has experienced staff to collect water samples for both internal and external laboratory analysis.
The Program's Water Resources Manager, Water Quality Planner, Water Program Field Coordinator, Water Quality Field/Lab Technician, and seasonal technicians or interns pair off into two or more teams per day to travel to Program sampling sites.  Sites are divided into "runs" so that a particular lake, tributary, or river area can be covered in day trips by a team.  The team will collect samples and place them into an iced cooler at 4 degrees centigrade until they arrive at the laboratory at DNR.
After samples arrive at DNR, the Lab Coordinator or designee signs them in and arranges samples for analysis. The hundreds of sample bottles that are collected throughout a season return many more results – numbering in the thousands for one season's work.  The Lab Coordinator analyzes for alkalinity, apparent color, conductivity, E. coli bacteria, five-day biological demand (BOD's), pH, total coliform bacteria, total suspended solids, and turbidity.  We have also recently acquired equipment to analyze phosphorus and chlorophyll, which we currently send to external labs.  We plan to add these to our list of regular analyses in the near future.
The Program also collects aquatic insect samples during the summer months to tell us about water quality.  The insects are collected using rock baskets or rock cones that are left in the water for four weeks before they are retrieved. The rocks are cleaned from material and the insects and debris are funneled into mason jars and filled with alcohol for preservation.  The mason jars are then "picked" at the lab with care to remove the thousands of insects from plant material, woody material, sand and grit.  A tiny tool kit, magnifier, and assorted forceps are used for this miniature work.   Insects are placed into labeled small glass vials filled with alcohol for preservation, and sent to an entomologist for counting and identification. 
Please email or call the WRP Program Manager for questions regarding specific water quality questions.  Check out the map for water sampling sites that the Program visits. 

---
 Harmful Algal Blooms in Penobscot River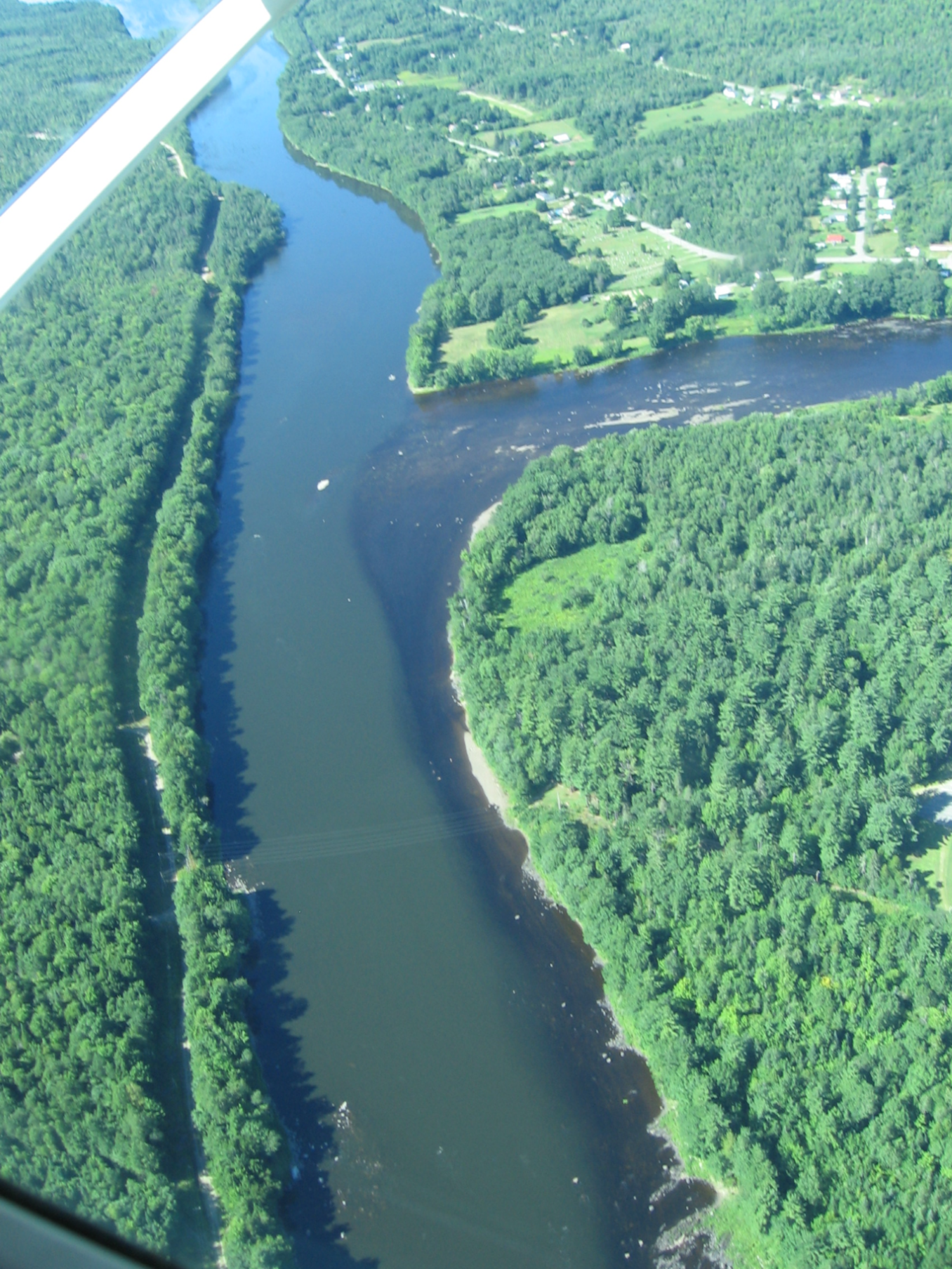 The Problem
See the following newsletters for general information about this problem:
Increase in severity of summer algal concentrations over the past 15 years, high enough to be considered a bloom (a rapid and excessive growth of a plankton population as of algae or dinoflagellates)
2001, 2004 and 2007 worst
Shift in community composition from brown and green algae toward a dominance of cyanobacteria (Anabaena and Microcystis)
Blooms triggered by one point source of phosphorus discharge 75 miles upriver of where they eventually reached
Primary growth starting in Dolby Pond impoundment, Millinocket
Scums formed on the edges of Dolby Pond
Cell counts have been as high as 100,000/ml
No detectable levels of Anatoxin-a
2004 Microcystin levels were .20µg/L - below World Health Organization (WHO) level for finished drinking water
In 2007, Katahdin Paper was issued a Notice of Violation from Maine Department of Environmental Protection (DEP) stating that "the Department believes the primary cause of these problems is excess phosphorus discharges."
Under currently proposed state nutrient and environmental response criteria these conditions would be considered "Impaired: Indeterminate cause."
Blooms originating in Dolby Pond impoundment will likely not be prevented under currently proposed nutrient and environmental response criteria.  Site-specific criteria will be needed for the Penobscot River. 
Penobscot Nation Monitoring Work
2007 violation resulted in Supplemental Environmental Project (SEP) money-part of which allowed PIN to purchase a Turner C6 with in situ fluorescence sensors for chlorophyll a and phycocyanin
An EPA Exchange Network grant has enabled PIN to begin sending the following continuous in situ data to the web in real time:
Turner C6

Chlorophyll a (raw fluorescence)
Phycocyanin (raw fluorescence)
Colored dissolved organic matter (raw fluorescence)
Turbidity 

YSI 6920

pH
Temperature
Dissolved oxygen
Conductivity
Turbidity
Real-time monitoring equipment is housed on a pontoon platform anchored in Dolby Pond impoundment just upriver from the dam
Regular sampling for total phosphorus and extracted chlorophyll a
2010 data (following an abnormally warm spring) reveal chlorophyll a levels up to 4.2 ug/L at the platform and 6.1 ug/L at the deepest part of Dolby by the beginning of July
Concurrent in-stream total phosphorus levels were 9.4 ug/L and 8.3 ug/L respectively
See the following newsletters for more information on monitoring work:
Future efforts will include:

Concurrent collection of location, depth and all water quality parameters-surface and at depth-using Streamline GEO (www.riocean.com/slgeo.php)
Determine the area of sediments that experience low oxygen waters and potentially provide a source of phosphorus through recycling
More frequent sampling for total phosphorus, soluble reactive phosphorus and chlorophyll a using a submersible automatic sampler
Share all data with EPA via the Exchange Network (www.exchangenetwork.net)
 ><> ~~~~ ><> ~~~~ ><> ~~~~ ><> ~~~~ ><> ~~~~ ><> ~~~~ ><> ~~~~ ><> ~~~~ ><> ~~~~ ><> ~~~~ ><>
Monitoring Water Bugs and Water Quality Before and After Dam Removal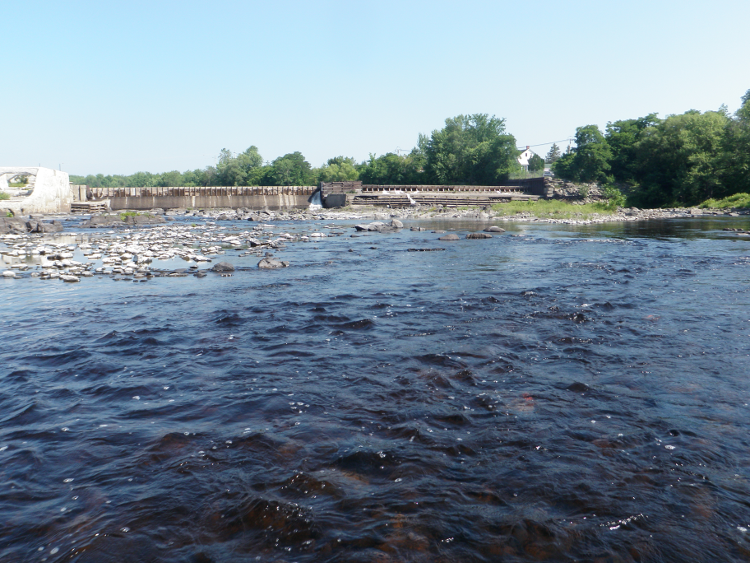 The removal of the Great Works and Veazie Dams by the Penobscot River Restoration Trust (PRRT) provided an excellent opportunity to learn more about how the river, fish, water quality, and other aquatic life change when dams are removed.  While dams are commonly thought to have negative effects on water quality and benthic invertebrate communities, few studies have measured these things.  So, in 2009-2010 and again in 2013-15 the PRRT provided funds to the PIN WRP to do monitoring to determine if and how water quality and benthic invertebrate (aka water bugs) community composition in the Lower Penobscot River changes when the two dams are removed. This information will also be useful for other scientists that are doing fish studies in the Lower Penobscot River.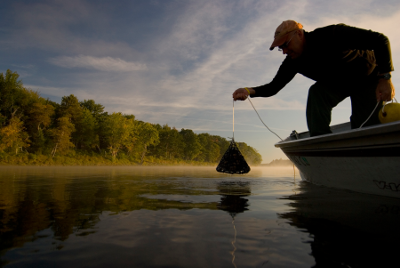 Monitoring Water Bugs
In 2009 and 2010, while the dams were still in place, we collected benthic invertebrates from areas within the impoundment and tailwater areas of the Great Works and Veazie dams, as well as upstream "control" sites.  We collected these using Maine DEP methods, which involve setting out rock filled baskets and allowing them to be colonized by critters for ~28 days. We then retrieved the baskets, collected all the critters, and sent them to a specialist that identified and counted them all.  Because these water bugs are excellent indicators of water quality (link to Bugs as Water Quality Indicators), looking at how many and what types are present can tell us a lot about the condition of the habitat where they are found. In 2013-2014, after the dams were removed, we repeated this sampling at the same locations.  Again, we will repeat this sampling in 2015.  These data will be used to determine whether aquatic life criteria are being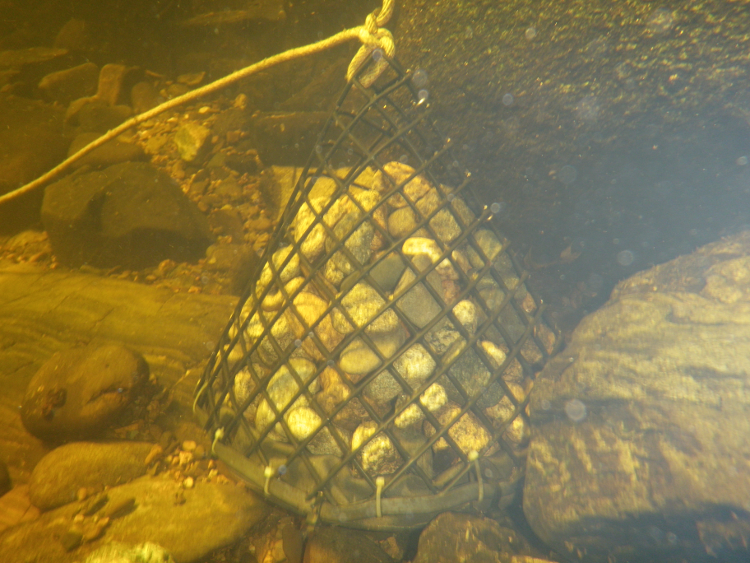 met and if the numbers, species, and types of water bugs (aka community structure) change due to dam removal. The benthic invertebrate results from 2009-10 showed that the mean number of organisms was highest in the free-flowing, non-impounded areas.  Likewise the mean number of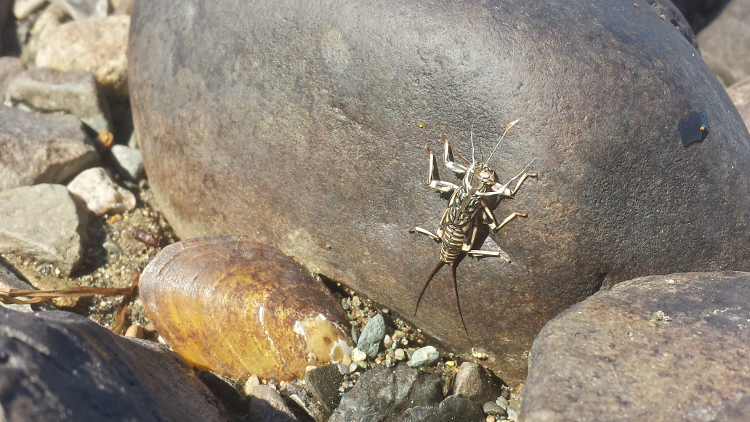 benthic taxa were generally higher in the free-flowing areas.  Data from 2013-14 and more detailed comparisons of community structure will be forthcoming.
Monitoring Water Quality
To characterize water quality conditions prior to dam removal, in 2009-2010 we collected water samples and measurements from 8 sites within the Great Works and Veazie dams project areas. Water quality measurements included dissolved oxygen, temperature, conductivity, BOD, bacteria, turbidity, secchi transparency, total suspended solids, pH, chlorophyll ā, and total phosphorous. Stations were sampled June thru late-October, at 1-2 week intervals. Also, we set out Onset Hobo temperature loggers at 15 locations. These recorders collected water temperature data continuously every 30 minutes.
In 2013 and 2014, after the successful removal of the dams we repeated our sampling efforts to begin to characterize post removal conditions.  We will be continuing this work again during 2015.
Data from 2009-10 showed that water quality conditions were typical of that seen in other large mainstem rivers in Maine with industrial and municipal discharges and dams.  Water quality standards were met for all parameters that were measured.  We did see evidence of phosphorous enrichment at the sites downstream of the Old Town Fuel and Fiber mill.  In 2010 maximum water temperatures in the lower river sites ranged from 27.7 to 28.3 ºC and daily water temperatures on numerous times exceeded the 25ºC incipient lethal threshold limit for adult Atlantic salmon.  Water temperature appeared similar at sites above, within, and downstream of the 2 dam impoundments.  Analyses of water quality data from 2013-14 have not been completed.
Funding provided by Penobscot River Restoration Trust through NOAA ARRA and NOAA ORI; BIA PL 638, EPA CWA Section 106.

---
 The P.l.N. Water Resources Program has installed many Best Management Practices or BMP's over the years to prevent nonpoint source pollution from entering Tribal waterways.  One of the most visible BMPs on the reservation is the rip-rap rock walls that have been installed on Indian Island riverbanks. This specific BMP was selected due to erosion from the spring thaw ice flows and fluctuating water levels within the Milford Impoundment. The rip-rap has now armored the banks preventing any further erosion and has stopped sediments from entering the river.
BEFORE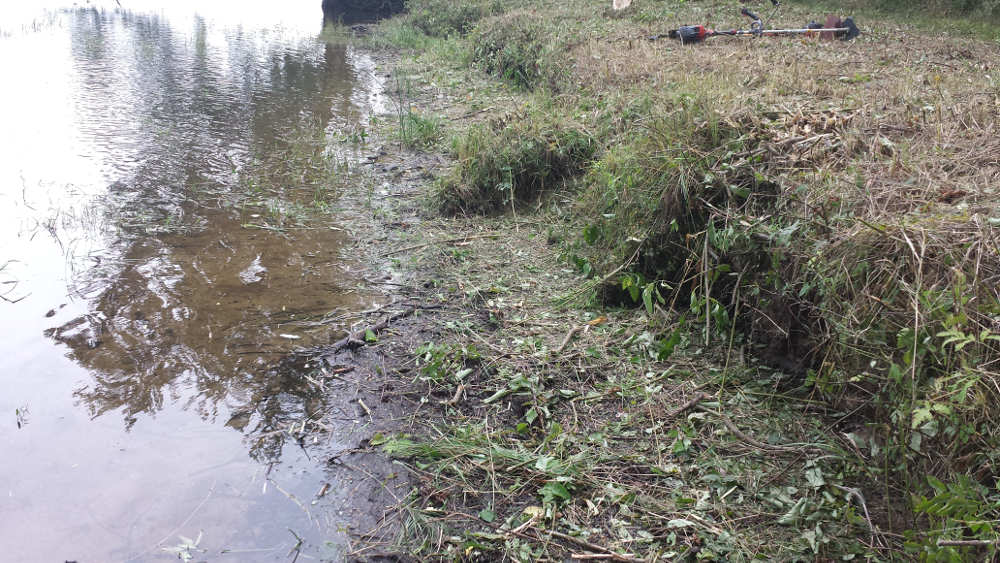 AFTER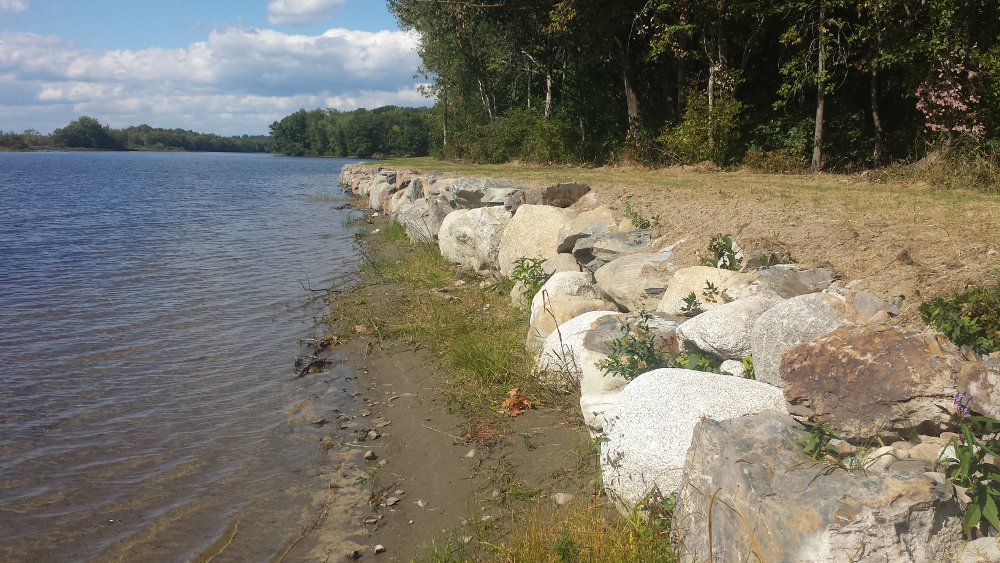 PIN Water Resources Program installed new BMP's to the Snow Mountain ATV trail in 2013. Work was performed on this trail ten years ago. Before that work was done ATVs traveled directly in stream crossings. To address this issue 5 bridges and many water bars were constructed. These BMPs have served their purpose well for the last decade, but the bridges had become unsafe and water bars were sediment filled. So, through an EPA Tribal 319 NPS grant we were able to hire a contractor to install 5 new bridges with steel carrying beams, new water bars, and flexible razor strip stormwater diverters. We re-routed the upper portion of this trail and retired and stabilized the old trail.
BEFORE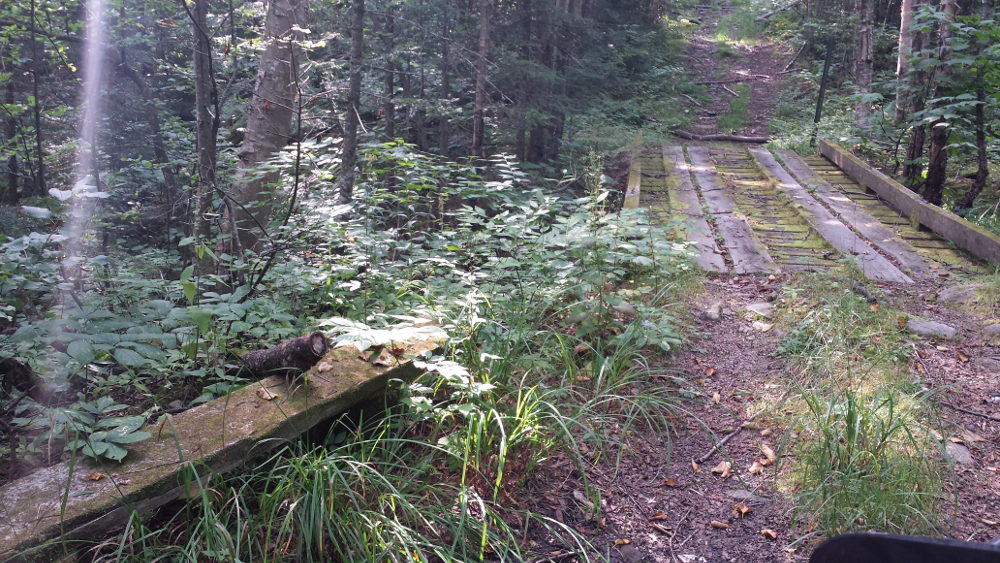 AFTER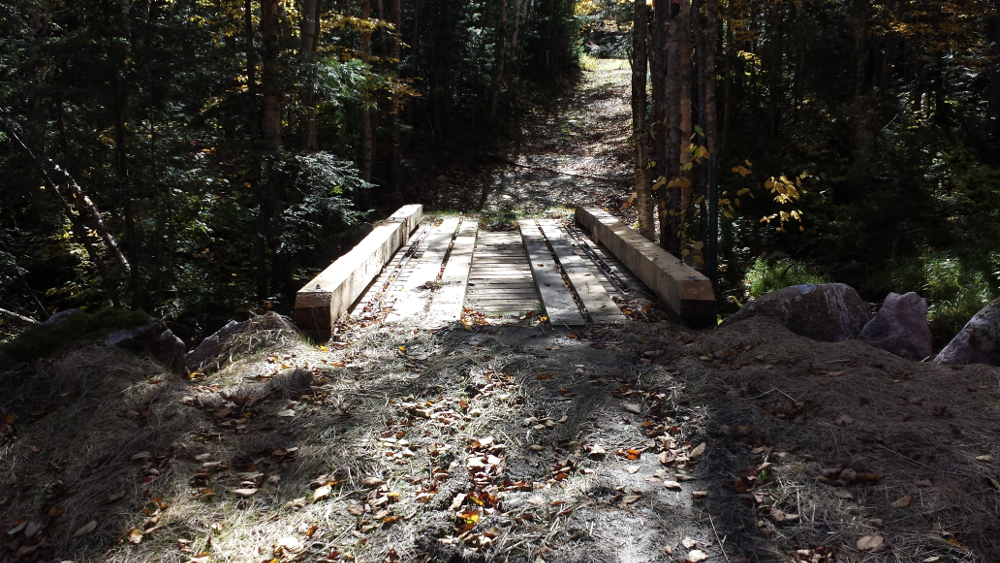 PIN Water Resources Program installed new BMP's to a section of road that leads into Little Mattamiscontis Lake in the summer of 2014.  This short road was badly eroded and posed a threat to water quality in Little Mattamiscontis Lake.  Through an EPA Tribal 319 NPS grant we were able to hire a contractor and install gravel with proper surface slope, ditches, cross draining culverts, and 9 flexible stormwater diverters.
BEFORE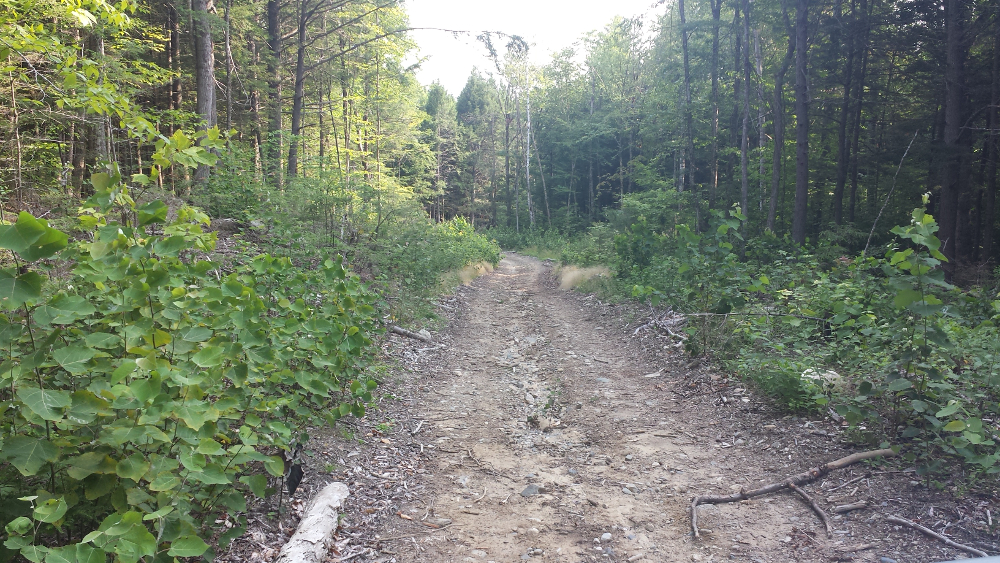 AFTER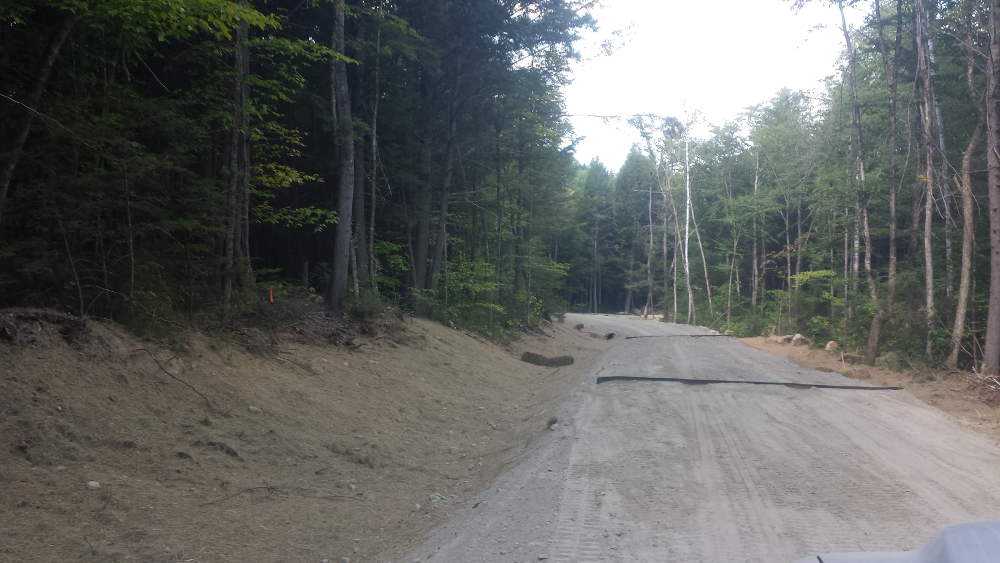 Highway Crew Handbook Training
The Highway Crew Handbook Training started out as a 3 day training session designed for municipal highway crews.  It has since been redeveloped and condensed into a 2 day training.  This training was originally developed and taught by John Simon, P.E..  This training was held extensively throughout southern Maine by John.  John also instructed two 3 day trainings here on Indian Island.   After John's retirement the training was redeveloped and is now instructed by Phil Ruck, P.E. with Stillwater Environmental Engineering.  Phil has instructed two 2 day trainings here on Indian Island.   Participants are provided training that can best be described as engineering for non-engineers.    In this training participants learn about culvert issues and designs, road ditch issues and designs, road slope stabilization methods and designs, road turnouts and buffers.  This training provides hands on learning.  Participants work in teams to analyze the size of watersheds and design for , erosion control by selecting appropriately sized culverts, and determining ditch and stabilization methods.  Upon completion participants receive a certificate of completion as well as 6 continuing education credits from the Maine erosion Control Center.  In total we have been able to train 25 town municipal road crew staff from:  Indian Island, Old Town, Milford, Howland, Enfield, Lincoln, Medway, Milo, Brownville, and East Millinocket!

---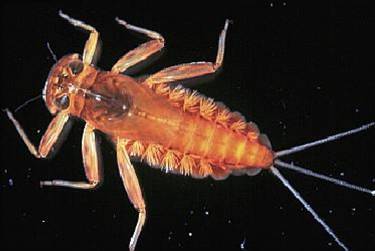 Another way of measuring the health of rivers involves getting samples of the bugs that live on and in the bottom.  Because some bugs live a somewhat long time, if they are living in a place it can tell a lot about how clean the water has been for a while.  And some bugs need a lot of oxygen to breathe in the water.  So if they are not living in some places it might mean that some source of pollution is making it hard to have enough to breathe.
Scientists call these bugs benthic macroinvertebrates.   
Benthic = the bottom. 
Invertebrates = bugs that don't have a backbone. 
Macro = you can see it with the naked human eye.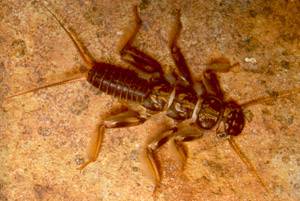 So these critters without a backbone live on the bottoms of rivers, streams, lakes and ponds and are visible without a microscope.
The western science classification of organisms put them into a hierarchy of:
Kingdom
Phylum
Class
Order
Family
Genus
Species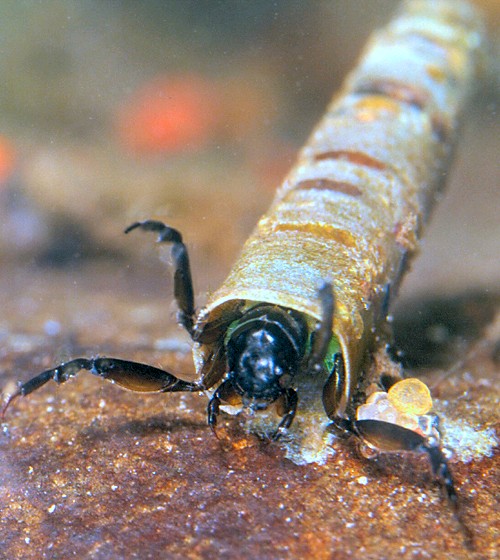 Three of the major Orders of benthic macroinvertebrates are:
Ephemeroptera = mayflies
Plecoptera = stoneflies
Tricoptera = caddisflies
The number and varieties of these bugs are used as the main indicator of water quality and river health.  Most of these bugs need cleaner water than others, so if there are lots of them in a sample it is a good sign.  The technical term for this indicator is the EPT index - using the first letter of each Order.
Every year we visit a certain number of our sites to assess the bug community living there.  To do that we put out a basket, cone or bag filled with an equal volume of rocks that give the insects a place to live. These sit out in the water for one month, giving the bugs plenty of time to find them and make a home.  At the end of the four weeks we pull the container out of the water, take all of the bugs out and preserve them for identification.  This process takes a long time because most of the bugs are no more than 1 or 2 inches long at the most and there are many hundreds of them!
After all of the samples have been identified by a professional we run the data through the model developed by the Maine Department of Environmental Protection.  The information that comes out of the model tells us whether or not the water is as clean as it is supposed to be at that place.
This part of our work is something that you, too, can do!  You must be very careful when you enter any water, but these bugs are easy to find on the shallow edges.  So the next time you are near some water, pick up a rock and look underneath - you may be surprised to see just how much life is out there!

---
It does not get much better for the Water Resources staff than to have Penobscot youth work with us!  But when the Wabanaki Youth in Science (WaYS) internships started in 2013 it was better—we have taught some of these students about the Penobscot River and Water Resources Program in Mrs. Francis' Native Studies class when they were at the Indian Island School.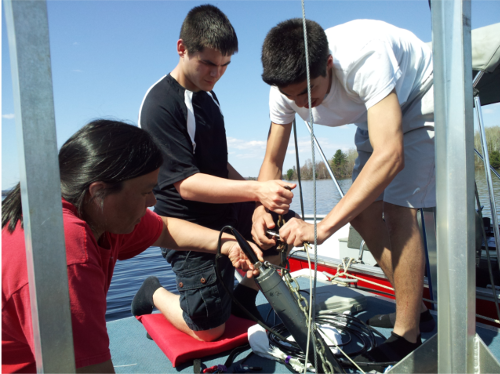 Many years later we have now had the pleasure of working with Keanu Lewey, Seneca Love and Haley Francis out in the field and in the office.  Keanu and Seneca joined Jan and Angie for the annual launching of the platforms at Dolby Pond up in Millinocket in 2013.  They then continued to help with lots of other field work that summer.  Haley has helped us to enter almost all of the field data from 2005, collect many samples in the field, enter data while out there and do the first processing steps for our bacteria analyses.  Click here to see Haley and Shane Dow with Jan on the WABI newscast.
Working as part of the PIN Water Resources Program staff provides a much more direct connection than is typically found between a nation, the leaders, the citizens, the school and the employees.  The data that the Program collects and exchanges has a more immediate ability to be put to use in a wider range of ways than simply creating technical documents or files that get submitted to agency partners.  Water quality monitoring efforts have already served to employ many PIN citizens in the western science-based work of protecting their river.  These citizens talk with their families and leaders (many times one and the same) about the river and their work.  PIN leaders bring these concerns to their non-Native peers in decision-making positions.  Protecting the water is a sacred duty.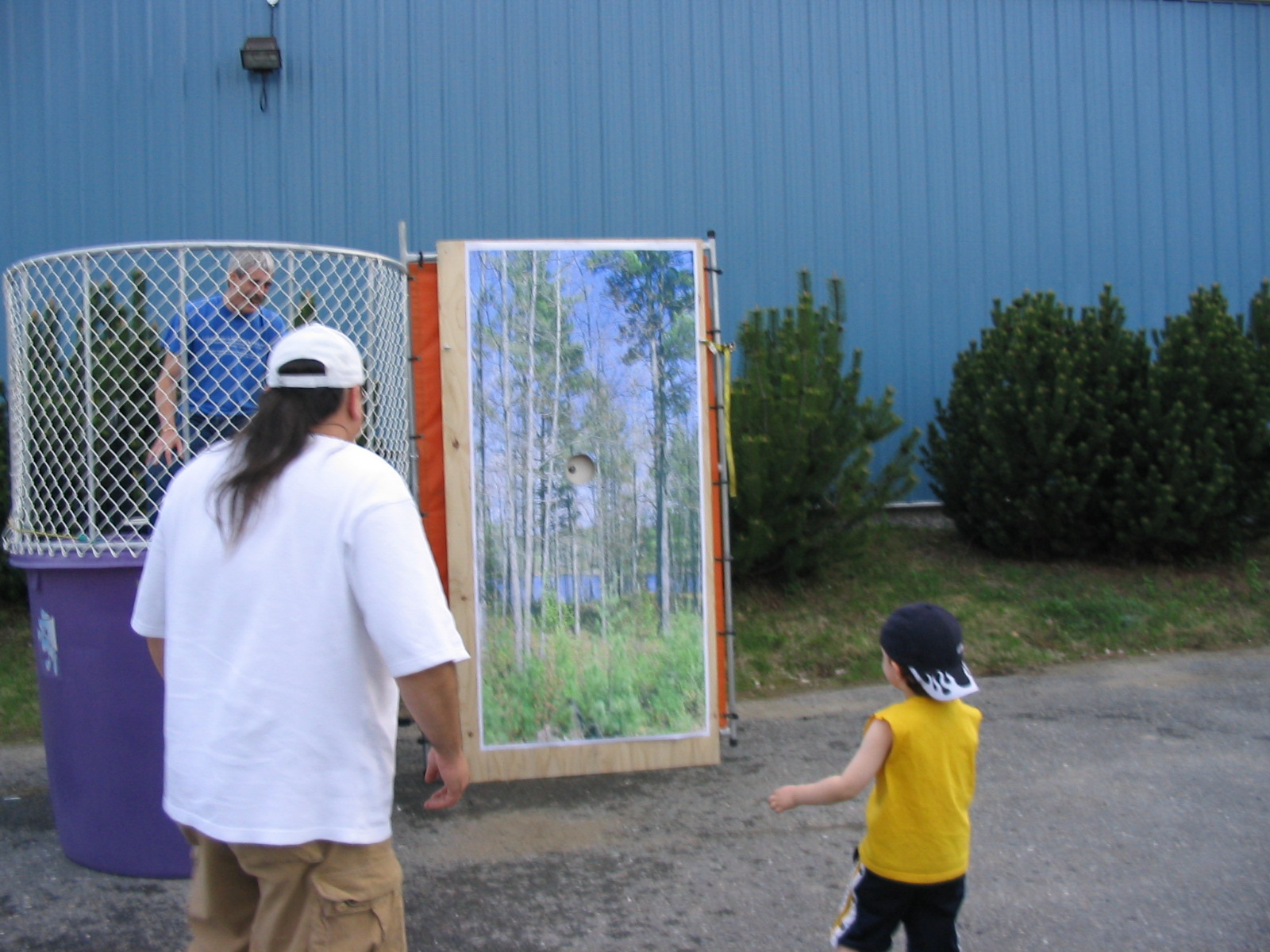 Riparian buffer dunk tankPerhaps the most important transmission of information about water quality and how the river is doing is through informal and formal communication with the Indian Island School (early childhood through eighth grade).  It is in this arena that the future of the Nation is being built and knowledge of the connections between their culture and environmental impacts are being strengthened.  In 2005 Lee Francis, the Native Studies teacher at the school, approached the Program about working together to educate the students about the impacts on their river, what is being done by their employees and what they can do to help.  Lee started thinking about this approach when she attended an educational workshop on non-point source (NPS) pollution held by the Program in 2004 (see Spring 2004 Issue 3 of the DNR Newsletter - 614kb pdf).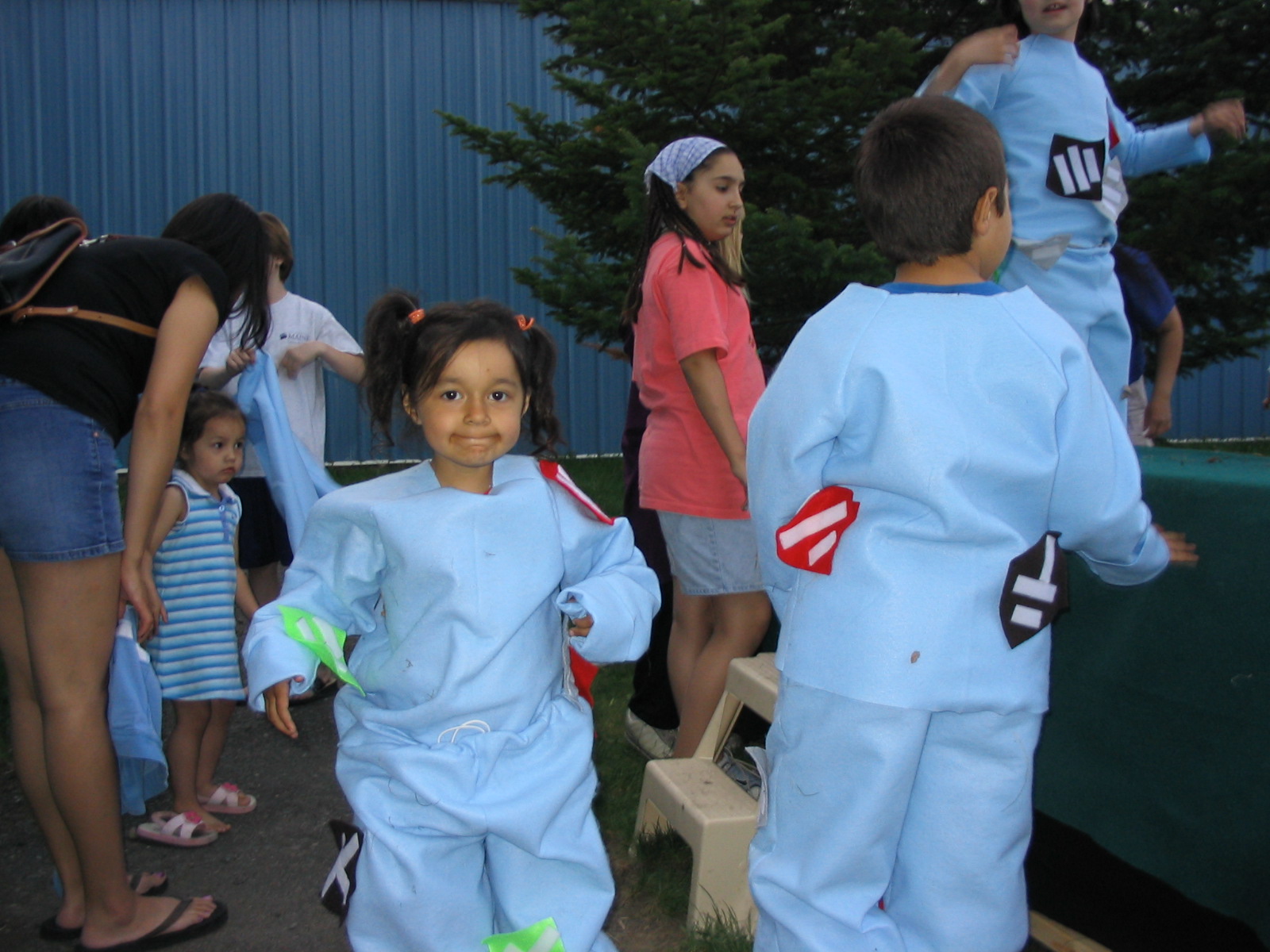 Water droplets covered in pollutionBecause the Program was committed to making the workshop fun and interactive for all ages we decided to invent some new activities and use the best of existing ones.  It was wildly successful and included: 
employees (pollution) in a dunk tank that simulated how riparian buffers (a life-size poster of trees on a sheet of plywood with a very small hole for the ball to go through and hit the target) protected the water from having pollution entering it
children and adults in felt suits acting as water droplets rolling down a hill (ramp) collecting velcro-enhanced pollution particles and then getting the particles removed with a conversely velcro-enhanced riparian buffer before they entered the river at the
bottom
an Enviroscapes© watershed and sources of pollution model with all of the kool-aid and cocoa pollution and spray-bottle rain simulation fun that goes with it.
These activities and more from Project WET have been brought to the school in the classroom and at the annual Wabanaki Day festivities more than a dozen times and have been the springboard for more intensive learning by older students.  Older students have been given the chance to do the following:
take trips on the river to see paper mill discharges, collect water samples, and take measurements,
prepare and analyze water samples in the classroom and the WRP's lab,
learn the types and amounts of pollutants that are allowed in various discharge permits,
collect or see in the classroom many varieties of aquatic insects and learn what they tell us about water quality, and
calculate the number of bacteria colonies in a sample and compare it to the state standard.  
These lessons have not only increased the knowledge of the students but served to bolster their self-esteem as well.  Ask any Penobscot Nation citizen and they will tell you how challenging it can be to leave school on the Island to go "across the river" and attend high school.  It is not always a welcoming experience.  However, a small but important example of how knowledge can be a source of empowerment has come from the work between the Program and the school.  A couple of years ago one of the freshman from the Island told Lee a story that summarized one of the ultimate reasons for doing our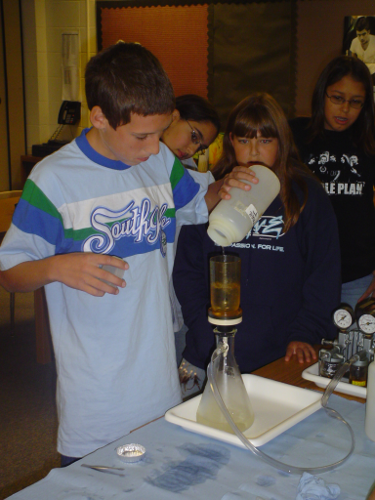 Filtering water sampleswork.  The student excitedly shared that "her teacher thought she was really smart" because she already knew about aquatic insects and knew some of the characteristics that the teacher did not.  This same student had learned enough about preventing non-point sources of pollution from entering the water that she told someone she knew that he should leave more trees and shrubs as a buffer next to the river.  Another of her fellow school-mates wrote a letter to the Maine legislature about the problems on the Penobscot River and how important it was to keep the water clean and healthy.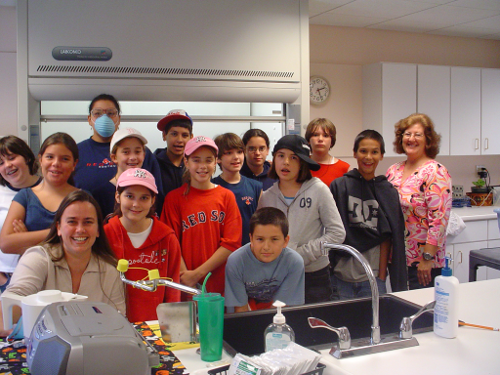 Mrs. Francis and her class in the Water Resources Lab