Water Quality Data
(click on section titles in brown to expand or contract them)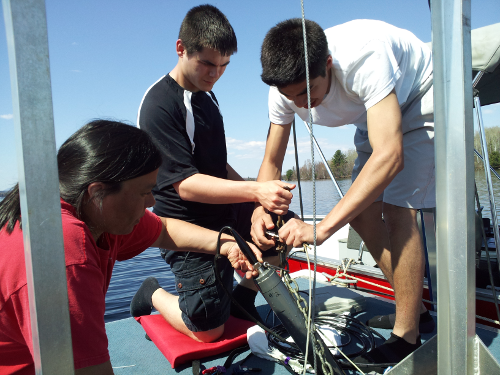 Jan Paul with interns Seneca Love and Keanu Lewey installing equipment on DP3 platform in Dolby Pond Since 2010, the PIN Water Resources Program (WRP) has been monitoring water quality in Dolby Pond impoundment more intensely in an attempt to provide an early warning of harmful algal bloom conditions. The WRP has deployed two instrument platforms in the impoundment that automatically sample water quality and weather conditions every 30 minutes, 24 hours a day, typically between May and October. The data is transmitted to our servers in real time so it is available on the web almost immediately. One instrument platform, named DP2 - Deep Hole, is located in the deepest section of Dolby Pond to monitor for the earliest signs of a developing bloom. A second platform, DP3 - Near Dam, is located above the northernmost dam near East Millinocket. This site monitors the confluence of waters that will flow through the dam and down the Penobscot River.
The major questions being addressed by the WRP are the following:
Is the water in Dolby Pond meeting the currently proposed nutrient and environmental response criteria (total phosphorus, chlorophyll a, secchi depth) and the existing dissolved oxygen standards?
Are the conditions between Dolby Pond and upriver of the two major dischargers significantly different?
How long does the deepest part of Dolby Pond become stratified and hypoxic/anoxic? What is the areal extent of this condition?
What conditions help contribute to an algal bloom, harmful or otherwise, in Dolby Pond?
The real-time continuous data available on this site will assist in answering these questions in a timelier manner.
Please contact Dan Kusnierz (207-817-7361) with questions related to the content, formatting, and use of these data files or for additional information.
(Click on the links below to download raw data files.)

2009 - 2010
2013 - 2014