Domestic Violence/Sexual Assault (DV/SA)
Tribal Court Complaints for Protection from Abuse/Harassment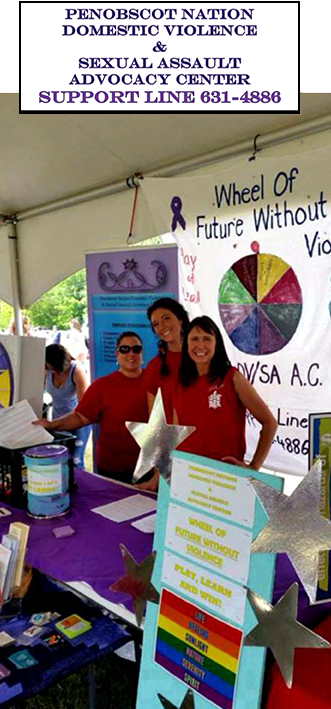 It is the mission of the Penobscot Nation Domestic Violence and Sexual Assault Advocacy Center to serve the needs of the victims/survivors of domestic and sexual violence who seek our services while working to end violence against Native women and their children.
24 Hour Support Line - We are always there to listen, offer information and support via phone.
Safety Planning - You deserve to live safely. We can help you consider additional options and resources that can help you stay safe.
Support Groups - We offer a support group that will give you a place to talk, make friends, share experiences and find understanding.
Temporary Shelter - Individuals who find themselves in situations of immediate danger of physical harm/abuse.
Patricia Graffam
Program Coordinator & Advocate
207-817-3165 Ext. 2
This email address is being protected from spambots. You need JavaScript enabled to view it.
Jennifer Galipeau
DV/SA Advocate
207-817-3165 Ext. 2
This email address is being protected from spambots. You need JavaScript enabled to view it.
Aline Michaud
Shelter Coordinator
207-817-3165 Ext. 2
This email address is being protected from spambots. You need JavaScript enabled to view it.
RECLAIMING A CULTURE WITHOUT DOMESTIC VIOLENCE