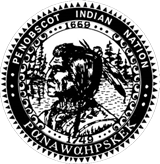 Message From The Chief
Dear Tribal Citizens,
I hope you and your families are doing well. As you may be aware, a bill was passed in the last session of the State legislature (LD 585) that provided exclusive rights to the Wabanaki tribes to conduct online sports betting in Maine. The bill also provides for certain tax breaks to tribal citizens living and working within tribal territory and includes mandatory consultation with the tribes for issues that affect us.
After nearly a year of work, I am happy to report that Penobscot Nation, along with the Maliseet and Micmac Nations, has entered into a partnership with Caesars to conduct online sports betting. We are now waiting for Maine's gambling control board to finalize the regulations for online sports betting and determine the date at which we will go live.
Caesars has extensive experience, knowledge and a reputation of excellence in partnering with other tribes across the country. Our agreement with Caesars provides that the Tribes will receive annual mandatory minimum payments once we begin operations. The tribes will receive much more than these minimum payments if the market performs as expected. We will get a better sense of these revenue numbers as the industry develops in Maine.
We are very excited about this partnership and opportunity to secure much needed resources. It is important to remember that we are reclaiming our gaming rights as a Nation after nearly 40 years of being denied. We are hopeful that this is just the first step in establishing a tribal gaming enterprise as the agreement ensures the tribes' participation in any future full I-gaming opportunities authorized in Maine.
This partnership with Caesars and the strong alliance we have built with the Maliseet and Micmac Nations marks a huge step forward for Penobscot Nation and I want to thank each member of our hard-working team for helping to make online sports betting a reality.
We will continue to keep you informed as we move through the licensing and regulation process. Please reach out to me if you have any questions.
In Brotherhood,
Kirk E. Francis, Chief