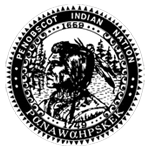 Message from the Chief
Dear Tribal Citizens,
I hope this letter finds you and your families in good health and that you are having a great new year so far. I am writing to bring to your attention the extreme weather forecasted for this upcoming weekend. According to reports, this Friday and Saturday the temperatures will be in the range of minus thirty to forty degrees below zero with wind chill which can be quite dangerous.
We are asking everyone to please prepare now by stocking up on any supplies that you may need and making sure your heating sources are working properly. The Nation will be providing an emergency heating shelter in the event of any power outages or any other emergencies. Please contact the Penobscot Nation Police Department at 207-817-7358 if you experience any type of difficulties, and they will direct you to the appropriate service.
Again, it is very important to prepare now. Many vendors that provide services such as oil or heating repairs are extremely busy during this time of year especially with the temperatures plunging. Thank you all for your attention to this situation and please stay safe.
Sincerely,
Kirk E. Francis, Chief