"Our mission is to help our community members look good, feel good, and live longer healthier lives. Setting a positive healthier example for our youth and enhancing our elder's physical strength and endurance. This is accomplished with professional assistance through personal attention, fitness programs and an environment that is motivating and conducive to helping community members reach their goals."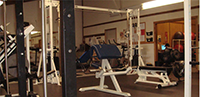 PNHD Fitness Center offers a fully equipped fitness facility with a large selection of cardio equipment, strength training machines, and free weights.
The cardio equipment consists of treadmills, elliptical machines, stationary bicycles, and stair climbers.
The strength training machines offer resistance exercise for all major muscle groups.
Additionally there are free weights, benches, stability balls, medicine balls, mats and other fitness equipment. Customized fitness programs to fit individual needs are always available.
The Fitness Room is open M-TH 9-1:30 and 4:30-7 and F 9-1 only. 
Group classes that are currently offered are: Total Body Blast (a high repetition weight training class) Monday, Wednesdays, and Fridays 5:30-6:30pm.
Growing Stronger for Seniors, Tuesdays and Thursday at 9:30am. Teen Fitness Hour- Tuesdays and Thursdays 3:30-4:30pm.
A strong community can only be achieved when we invest in our youth, our elders, our culture and our health. To maintain good physical health the American College of Sports Medicine recommends kids have at least 1 hour of physical activity a day. Adults 18+ should have 30 minutes of cardio five days a week along with 30 minutes of strength training 2 days a week.