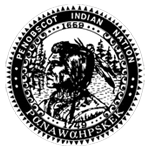 Public Hearing/Annual General Meeting
On March 22, 2023, Tribal Council set the agenda for the Annual General Meeting, the agenda items going forward to Public Hearing/Annual General Meeting are:
Repeal of "Blue Book" & Revision of Chapter 3
DV/SA Code/absolve the current Chapter 17, and replace/update Chapter 14
Chapter 9 – Land Assignments and Leases amendment – Anyone who has been convicted of a felony, within past 10 years, cannot apply for land assignments within the Penobscot Nation.
Tribal Census Maintenance Procedure Amendments
Renaming of what was historically called White Squaw Island, currently called No Name Island.
"Other" (Annual General meeting)
The Public Hearing is scheduled for Tuesday, April 11, 2023, at 6:00 PM, Nicholas H. Sapiel Building. The Annual General Meeting will be held on Saturday, June 03, 2023 at 9:00 AM, Sockalexis Arena, this meeting will also include an informational session dealing with tribal annual financial audits, budgets and statements.
If you like to review the documents before the meeting(s), the information will be made available in the Tribal Clerk's office.