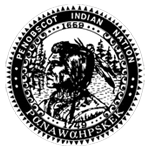 Using Avenza Maps
Now you can safely navigate through wilderness areas without having to buy an extra gps.
Go to your app store on your smart phone and download Avenza for free. You can hold three custom maps for navigation in the free version.
The Penobscot Nation website has free downloadable maps at the following link: Maps for Download – Penobscot Nation
These maps are in pdf format but are not ordinary pdfs, they are also georeferenced so that you can use them to navigate in real time from your cellphone. Your phone has a gps receiver that works even when you are offline. Your accuracy is between 16 and 30 feet or more in an open to forested area which is comparable to a handheld gps unit. Both are using the same satellites, but the cell phone wins out for ease of use, resolution of the map, and accuracy in many cases.
With this app you can accurately scout areas, take tracks, points, and make layers that can be sent easily to others to accurately communicate locations to anyone with a computer or smartphone.
Make sure to download the map before going to navigate offline and always have a map and compass as a back-up!